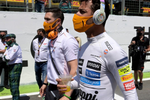 that protein has joined forces with F1 nutritionist Michael Italiano to give you some tips on how to eat like an F1 race driver.
F1 driver Daniel Ricciardo's nutrition on race day
 
Breakfast
Bowl of Porridge with Maple Syrup and almonds
 
Lunch
Sweet potato and lentil Burrito
 
Pre Race Snack
Protein Bar
 
Post Race
Chocolate Protein Shake with Oat Milk and 1 Banana
Rye Crisps with Avocado and Sea Salt
 
Dinner
Big bowl of Pesto Pasta
 
Hydration
Hydration begins 48hrs prior to race day.
Target is 5L per day, use the use of electrolyte powder
Upon waking on race day we aim for 750ml of water per hour.
During race, the car holds 1L of fluid for the driver to drink throughout the race. Mix usually consists of electrolyte powder with water.
You can now get your favourite @thatprotein products and fitness programmes on Michael's website
https://www.michaelitaliano.com 
or click the products below!
 for more information about that protein follow us @thatprotein and our website
www.thatprotein.com