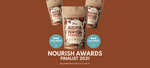 Vegan nutrition company That Protein - it was announced today, July 19th 2021-is a finalist for two prestigious Nourish Awards which are billed as "The Toughest Health Food Awards in the Industry".
The accolades were given for the brand's Blissful Double Choc Protein Porridge - a finalist for "Best Breakfast" product and "Best Gut Health" product.

The Blissful Double Choc Protein Porridge is a vegan blend of gluten free oats, plant protein, organic raw cacao, cacao nibs and palmyra nectar making it high in plant protein, fibre and B Vitamins. It has been developed to be gut friendly and has been tested by independent labs to be low fodmap and gluten free meaning it's suitable for people with IBS.

That Protein is a small independent plant-based nutrition company headed by Founder Darlene McCormick who is a Northern Ireland Businesswoman of the Year. The company specialises in high quality, high protein and gut friendly vegan health foods free from chemical ingredients.

This is the fourth year in a row that That Protein has been honoured at the Nourish Awards, winning Gold for Best Protein Powder in UK for its Nutty Nutty Peanut Butter Super Protein in 2018; scooping Gold and Silver in 2019 for its Blissful Raw Cacao Organic Super Protein and taking home the Silver in 2020 for its Chirpy Chirpy Choca Mocha Organic Super Protein.

The Awards Ceremony for the Nourish Awards 2021 where the winners will be announced takes place in September.