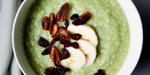 Start your morning off with this delicious hemp protein porridge!
To make it, you'll need:
-1/2 cup of oats
-1/4 cup of Happy Happy Hemp and Baobab Super Protein
-1 cup of almond milk
-1 tbsp of ground flaxseed or chia seeds
-A pinch of sea salt
-Optional toppings like raisins, nuts, banana slices, and cinnamon.
Instructions:
1.Combine the oats, Hemp & Baobab protein powder and almond milk in a saucepan over medium heat. Bring to a simmer while stirring occasionally.
2. Add the flaxseed, sea salt and any other optional ingredients you'd like to add. Continue to cook for 3–5 minutes until thickened.
3. Serve warm and sweeten with some maple syrup and serve with your favourite toppings and enjoy!