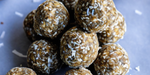 Ingredients
1 cup of Happy Happy hemp & Baobab super Protein
1/4 cup of almond butter
2 tablespoons of maple syrup
2 tablespoons of chia seeds
1 tablespoon of cocoa powder
1 teaspoon of vanilla extract
Pinch of salt
Instructions
In a medium bowl, mix together the hemp & baobab protein powder, almond butter, maple syrup, chia seeds, cocoa powder and vanilla extract until combined.
Add a pinch of salt to the mixture and mix again.
Use your hands to roll the mixture into small balls. If it is too wet or sticky, add extra desiccated coconut or chia seed until you can easily handle them.
Place the balls on a lined baking sheet and refrigerate for at least one hour before serving. Enjoy!