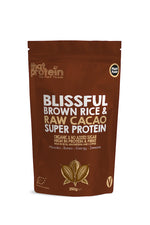 February 14th has become associated with hearts and chocolate so what better day to talk about the heart health benefits of raw cacao as found in that protein's Blissful Brown Rice and Raw Cacao Super Protein? Lots of people will be giving and receiving chocolates for Valentine's Day, but is it true that chocolate is actually good for your heart?
The indigenous peoples of middle America have long believed that cacao was a gift from the gods and raw cacao was a mainstay of their diet. Cacao has more than 300 phytochemicals, including vitamins, minerals, and dietary nutrients such as fat, carbohydrates, fibre, iron, zinc, copper, potassium, phosphorus, calcium, magnesium, and sulfur. It also has quercetin, flavonoids, flavanols, xanthenes, polyphenols, caffeine, theobromine, phenylethylamine, and anandamide, among others.
Research shows that cacao reduces the risk of cardiovascular disease, based on clinical and epidemiological studies and in vivo experiments. Results found that cacao can lower blood pressure, reduce inflammation, improve platelet function, raise HDL and decrease LDL oxidation.
The British Heart Foundation states that cacao beans, the main ingredient in chocolate, contain naturally occurring polyphenols and there is indeed some evidence that polyphenols help reduce blood pressure and have antioxidant properties. 
Cacao of course is not "chocolate" and by adding fats and sugars as often occurs in chocolate bars the healthy effects will be offset or partially offset against the effect of sugar and "bad" fat. So if you want to stay heart healthy and enjoy a chocolatey treat choose raw cacao.
Why not try incorporating that protein's delicious Blissful Brown Rice and Raw Cacao Super Protein into your diet not just on February 14th, but every day to help maintain a healthy heart as part of a balanced lifestyle and healthy diet.
To receive news, notifications and special offers from that protein, you can sign up to our list here.