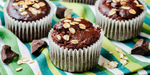 This choclate protein vegan muffin recipe is simpler than most, but still packs a delicious and nutritious punch. With just 7 ingredients, it's quick to make and perfect for an after-lunch or mid-afternoon snack.
Ingredients 
1 cup rolled oats
1/2 cup of Blissful Brown Rice and Cacao Protein 
2 tablespoons maple syrup 
¼ cup chia seeds 
1 cup dairy free milk such as almond milk 
⅓ cup raisins - 
1 teaspoon ground cinnamon 
Instructions
1. Preheat your oven to 350°F (177°C). Grease a 12 slot muffin tin with oil or nonstick cooking spray. 
2. In a medium size bowl, combine the rolled oats, Blissful Protein, maple syrup, chia seeds, dairy free milk, raisins and ground cinnamon until combined. 
3. Spoon the batter evenly between each muffin slot in your greased pan, (optional you can sprinkle some oats on top before baking). Bake for 15 minutes or until a toothpick comes out clean after being inserted into one of the muffins.