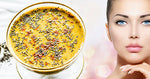 Glowing healthy skin comes from within and the 4 key vitamins for your best ever skin are vitamins A, C, E & K.  Vitamin A is a fat soluble mineral that needs to be consumed with healthy fat for optimal absorption.  Protein is essential for great skin, but dairy can be inflammatory and so this dairy free smoothie is high in plant proteins which contain all the essential amino acids.  Choose organic ingredients where possible as the chemicals in non-organic foods contribute to toxin build up.
This ultimate skin smoothie has been especially developed with foods that are high in these skin boosting vitamins.  Mango is high in vitamins D & C and peaches are high in vitamin K. Pumpkin seeds and chia provide the all important omega 3 fatty acids to help with vitamin A absorption and pumpkin seeds are also high in vitamin K. It is refreshing and naturally delicious and takes only seconds to make.
Ingredients:
1 peach (remove stone and skin)
1 cup mango
3 tablespoons that protein I Heart Pumpkin and Chia Seed Super Protein
300ml coconut milk
3 ice cubes
Chia seeds and sea buckthorn for topping (optional) 
Method:
Put the coconut milk in your nutribullet or blender.
Add the rest of the ingredients 
Blend for 10 seconds
Pour and enjoy