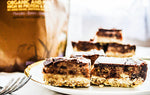 Rocky Road is a classic that never gets old - now you can replicate the same goodness, minus the questionable ingredients and make it high in plant protein.  This recipe is packed with delicious protein as well as dates, brazil nuts and goji berries.
One tray, 6-8 pieces.
Prep 15 mins (plus at least 2 hours sitting in the freezer)
Ingredients:
100g cacao butter, finely chopped
3 tablespoons coconut oil
3 scoops 
that protein
Blissful Brown Rice and Raw Cacao Super Protein
2 tablespoons palmyra jaggery (or brown rice syrup)
1 teaspoon vanilla powder
1 teaspoon ground cinnamon
Generous pinch of salt
50g chopped dates (optional, but recommended)
60g brazil nuts
60g goji berries
Method:
Put two bowls on top of each other. Pour hot water into the bottom of the first bowl and combine cacao butter and coconut oil in the top.  Melt the two by stirring every so often. You can also use a double boiler with a low heat. Remove from the heat and stir in palmyra, vanilla, cinnamon and salt - then slowly add that protein Blissful Brown Rice and Raw Cacao Super Protein and mix it with a whisk.  Add the nuts, goji berries and optional dates. Stir well and pour into a baking tray (covered with baking paper)  or a Tupperware container and place in the freezer. Let it set for two hours, then slice your Rocky Road into either 6 or 8 pieces.