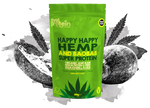 Let's celebrate the two amazing ingredients that together make that protein Happy Happy Hemp and Baobab.

ORGANIC BAOBAB 
Our raw, organic baobab comes from the fruit of Africa's "Tree of Life" and has so many benefits including; 

1) it supports a healthy immune system as it has more vitamin C than oranges. 

2) it helps reduce tiredness as it is high in vitamin C and rich in iron.

3) like green tea it's super high in antioxidants. The Journal of Nutrition has revealed that baobab contains the most antioxidants of any fruit on the planet.

4) it has a beauty boast as vitamin C helps with collagen production.

5) it's a prebiotic and the high levels of soluble fibre help with gut heart. Indeed the Hazda tribe in Tanzania who eat baobab regularly have the most diverse gut bacteria in the world with reports suggesting 40% more than the average westerner.

ORGANIC HEMP PROTEIN
Made from organic hemp seeds this nutrient dense powder;

1) will help you build and maintain muscles as it's high in protein.

2) is free from sweeteners or flavourings. 

Together they form the delicious nutrition powerhouse that is that protein Happy Happy Hemp and Baobab Super Protein.

Add to smoothies, baking, porridge or to make protein shakes.