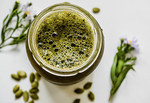 Autumn equals pumpkin and there is nothing better when the days run shorter than a pumpkin pie!  Cinnamon is a real treat, as it adds sweetness without really needing any additional sweetener.
Serving; 1.
Prep; 5 mins.
Ingredients:
1 ripe banana
1 cup fresh spinach leaves
½
cup almond milk
1 scoop pumpkin seeds
1 scoop 
that protein
I Heart Pumpkin and Chia Seed Super Protein
1 teaspoon cinnamon
Method:
Purée together in a blender until smooth and serve cold with a straw.