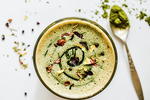 This vegan protein shake is effectively a double whammy.  Not only do you get all the benefits of 
that protein's 
I Heart Pumpkin and Chia Seed Super Protein
, but it is also a rich source of chlorophyll, essential fatty acids, antioxidants, energy-metabolising minerals and fibre.
Prep time 5 mins.
Serves: 1.
Ingredients:
200g pineapple, peeled, cored and cut into chunks
A few mint leaves
50g baby spinach leaves
1 tablespoon wheatgrass 
1 scoop 
that protein
I Heart Pumpkin and Chia Seed Super Protein
Fresh lime juice to taste 
Ice cubes
Method:
Put all the ingredients in a blender with 200ml water and process until smooth. If it's too thick, add more water until you get the right mix.