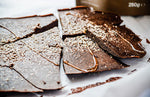 There is nothing better than chocolate to warm up those winter nights, the combination of that protein's Chirpy Chirpy Choca Mocha Super Protein and cinnamon gives a wonderful aftertaste to this very simple recipe: it's guilt free and happens to be incredibly fast and easy to prepare.
Serves 1-2.
Prep 10 mins (+20 mins in the freezer).
Ingredients:
3 tablespoons coconut oil, softened
25g of that protein Chirpy Chirpy Choca Mocha Super Protein
1 tablespoon raw cocoa powder
½ teaspoon palmyra jaggery 
desiccated coconut to garnish
Method:
In a small bowl, combine all four ingredients and mix until well combined. For a smooth texture, softened coconut oil is best - when melted the coconut oil and cocoa powder can separate. Transfer the chocolate mixture to a baking tray with baking paper and smooth with a spatula.  Place in the freezer to set for 20 minutes then use a sharp knife to cut into bite-sized chunks.