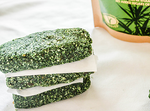 These protein bars can be a bit scary at first, but they are packed with goodness and not too sweet. We recommend melting the coconut oil slightly if the bars are not sticky enough to touch. The oil helps in decreasing the amount of natural sugars in the bars.  Perfect for people who would like to reduce their dates intake!
Makes 6/8 bars.
Optional 10 min cooking time.
Ingredients:
240g macadamia nuts
140g dried pineapple
5 pitted dried dates, preferably medjool
1 tablespoon coconut oil
1 tablespoon that protein I Heart Pumpkin and Chia Seed Super Protein
1 teaspoon wheatgrass powder
Method: 
Nuts can be used raw or roasted. If desired, roast the nuts at 150C for 10 mins. Combine the nuts, dried pineapple, coconut oil and dates in the food processor and process continuously for 30 seconds. Scrape the edges of the bowl and beneath the blades to make sure nothing is sticking. Process continuously until a ball is formed (1-2 minutes). Transfer your dough onto a surface covered with baking paper, shape a rectangle, wrap and chill for at least an hour.
Divide into bars.
Unwrap the chilled mix and transfer to a cutting board.
Cut into 6 large bars or 8 smaller squares as desired.
Store in the fridge for several weeks or in the freezer for up to 3 months.
Don't keep them out too long in the hot weather.