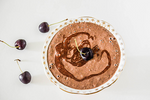 Greens covered in chocolate are always a winner, plus cherries are a match made in heaven.  We used frozen cherries, but if you have only fresh ones, simply add one or two ice cubes to achieve desired results. Voilà - a delicious vegan protein smoothie!
Serves; 1.
Prep; 5 mins.
Ingredients:
200ml chocolate coconut milk (or chocolate oat milk) 
1 handful frozen cherries (100g)
50g spinach
2 tablespoon that protein I Heart Pumpkin and Chia Seed Super Protein
1 frozen banana, peeled and chopped
2 tablespoons almond butter
Method: 
Mix all of the ingredients and blend.  Top it off with a cherry and a brown rice syrup swirl for extra goodness.