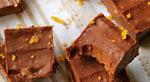 Who knew fudge didn't have to be unhealthy? Try this recipe for a sweet treat without the guilt! The protein in the recipe will help build and maintain muscle mass which is key to keeping the metabolism burning to maintain a healthy weight.  It also repairs muscle after exercise.  The raw cacao is a treat indeed, packed with antioxidants and could well be the ultimate superfood.  Coconut oils have been shown to have fat burning properties and agave is a low GI sweetener that won't spike your insulin (one of the biggest challenges with weight management and energy levels).
Makes 8-10 squares.
Ingredients:
2 scoops 
that protein
Blissful Brown Rice and Raw Cacao Super Protein
60g cacao powder
110g nut butter
110g coconut oil, softened
110g agave
Juice of 1-2 oranges to taste
Zest of one orange
Method:
Line a loaf tin with baking paper or foil.  Using a high-powdered blender, blitz together all ingredients (apart from the orange zest and juice) until smooth and glossy.  Add in the juice and zest and blend until you achieve the taste and sweetness you desire.
Spoon the mixture into the prepared tin, smoothing over with the back of a spoon.  Place in the freezer to set, then cut into squares. Store in the fridge in an airtight container and enjoy.