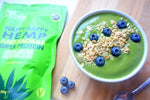 This smoothie is packed full of delicious and nutritious ingredients to boost your immune system and keep you feeling your best. The sweet pineapple and zesty baobab balance out the flavour of the hemp protein and spinach. Add in some avocado for healthy fats and hydrating coconut water and you've got yourself a perfect healthy smoothie.  
Ingredients
50g banana*
80g fresh pineapple*
35g avocado
200-250ml coconut water
25g That Protein Happy Hemp & Baobab
35g fresh spinach*
6 ice cubes (optional)
suggested toppings: a handful of low-sugar granola and blueberries. 
* You may also use frozen, but make sure to add a little more of the ingredient. Also you will need a powerful blender. 
Method
Add the ingredients to your blender in the order above. Blend until smooth then pour into a bowl and add the toppings of your choice.