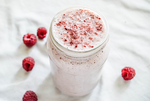 Summer equals berries of course. What about challenging the status quo by combining the sweet edge of berries with the tanginess of baobab? Cashews add a creamy texture which is indulgent as a dessert, but easy to whip up for a breakfast on the go.
Serves; 1.
Prep 5 mins.
Ingredients:
300 ml almond milk
1 tablespoon that protein Happy Happy Hemp and Baobab Super Protein
1 handful cashews (50g)
70g raspberries
1 pinch of vanilla extract
1 teaspoon dried raspberries to top
Method:
Mix all of the ingredients and blend. Top it off with some dried raspberry powder.