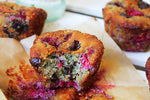 Ingredients:
100g almond flour
100g  that protein I Heart Pumpkin and Chia Seed Super Protein
2 organic eggs
3½ tablespoons organic oil, melted
3½ tablespoons maple syrup
2 tablespoons almond milk
1 tablespoons vanilla extract
1 teaspoon apple cider vinegar
½ teaspoon bicarbonate soda
Pinch salt
1 punnet fresh raspberries
100g dark chocolate chips
Method:
Preheat the oven to 180°C and line a muffin tin with 10 liners.
Blend together all ingredients except the (optional) chocolate chips and raspberries until smooth and combined.  Stir through the raspberries and chocolate chips.
Drop dollops of muffin batter into each liner, distributing evenly and then bake in the oven for 15-20 minutes or until cooked through.
Enjoy as a high protein, delicious breakfast.