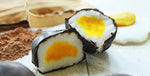 Ingredients:
For the white fondant.
3 - 4 tbsp palmyra jaggery
For the yellow yolk.
For the chocolate.
1 - 2tbsp palmyra jaggery (to taste)
Method:
Start by making the vanilla fondant filling. Gently melt together the cacao butter, coconut cream, coconut butter, cashew butter and coconut oil and stir until smooth. 
Separate 110g of the fondant into a second bowl and stir in the turmeric to colour the yolk. Place both bowls in the freezer for approx 1 hour to firm up, stirring every now and then to ensure it sets evenly.
Once the mixes are firm enough to handle, gently shape the white fondant into egg shapes and place on baking paper. Flattening with the palm of you hand, shape the yellow mix into small balls and place one in the centre of each "egg". Gently fold the white fondant around the "yolks", ensuring each one is sealed all the way around, whilst moulding into egg shapes (you may need to return the mix to the freezer to firm up a little more before doing this).
Take the "eggs" out of the freezer and dunk into the melted chocolate. Place back on the baking paper to set and store in the fridge until ready to serve.