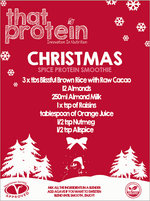 This delicious smoothie with a festive twist can be prepared quicker that you can say Ho! Ho! Ho!
Ingredients:
3 tablespoons that protein Blissful Brown Rice and Raw Cacao Super Protein
12 almonds
250ml almond milk
1 teaspoon raisins
1 tablespoon orange juice
½ teaspoon nutmeg
½ teaspoon allspice
Method:
Mix all the ingredients in a blender, add agave if you want to sweeten.  Blend and smooth. Enjoy!