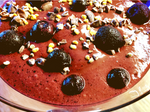 Ingredients:
1 serving 
that protein Blissful Brown Rice and Raw Cacao Super Protein
1 small raw beetroot with skin removed
½
frozen banana
½
ripe avocado
½
 cup frozen blueberries
½ 
- 1 cup coconut milk depending on whether you want to drink your creation or spoon it out.
Method:
Simply blend the ingredients together and pour into your favourite glass or bowl.  Top with the superfood sprinkles of your choice and eat immediately.  The reason that I love this recipe is because it tastes like an indulgent pudding, yet contains only healthy, nourishing ingredients.  The raw cacao gives an intense hit which is perfect for a pre or post-workout snack, a breakfast boost or a delicious dessert! Using frozen fruit and coconut milk makes it taste like ice cream.