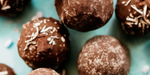 Ingredients 3 tbsp Blissful Chocolate Protein Powder 1 cup of Rolled Oats 2 tbsp Maple Syrup  2 tbsp of Almond Butter HOW TO MAKE 1. In a bowl, mix together the Oats and the Blissful Protein Powder until they are combined. 2. Add the Maple Syrup and Almond Butter into the mixture, stirring until everything is well blended. (use your hands) 3. Form the mixture into small balls about size of a golf ball, or however big you would like your protein balls to be. 4. Roll in Coconut Pieces or Cacao Powder 5. Store them in the fridge until...
---

that protein - Healthy Chocolate Fudgsicle - created by Emily Wright for that protein.  
---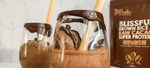 For the Nice Cream 4 frozen bananas1/2 cup of dairy free yoghurt1 tbsp of peanut butter2 tbsp of Raw Cacao That ProteinExtra: Chocolate cookies or granola for toppingFor the Protein Shake 250 ml of almond or other dairy free milk1 tsp of maple syrupBlend together all the ingredients for the nice-cream (apart from the toppings, if using)Add to a bread tin and cover with your toppingFreeze for at least 2 hoursMix together all the ingredients for the protein shakeFor assembling: Add ice to the bottom of a glass, add 2 scoops of your chocolate protein nice-cream and fill the glass...